For your 'maids purchasing from a distance
Are your bridesmaids scattered across New England, or better yet across the country? We cater to long-distance parties all the time!
---
Whether you've given your 'maids free reign to choose their style or you have pre-selected their looks, we are here to help each of your favorite ladies order the perfect dress in the correct size, by phone, email, or a Virtual Styling Consultation! Take a peek at how seamless the ordering process could be for your bridesmaids…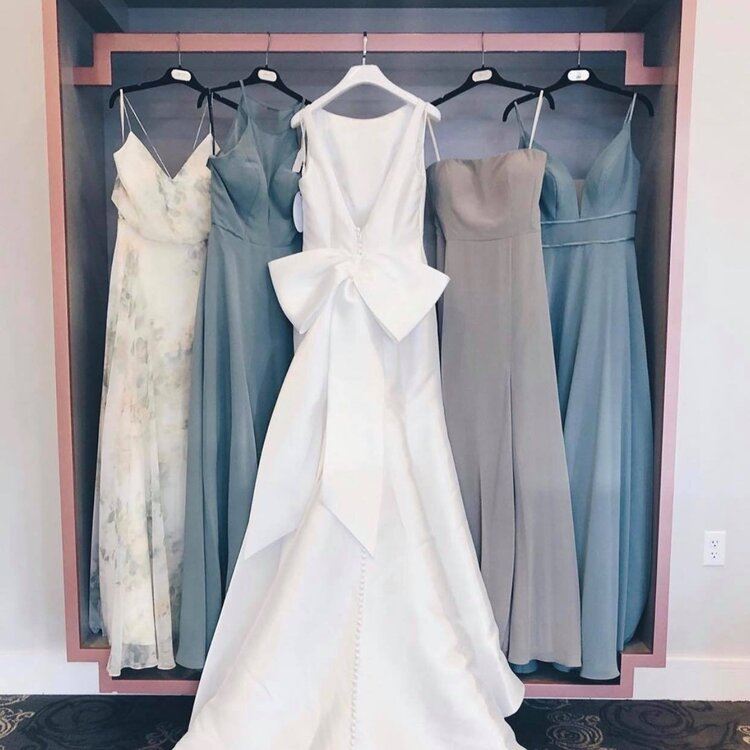 Step 1: Select Your Style
If your bride has pre-selected your style and color, you can skip this step!
If you are selecting your own style, ask your bride which designer/color you should be looking for. Once you have your parameters, you can visit the designer's website to browse their full selection of styles, or click the "Browse Our Bridesmaids" button below to see what we have in stock from each designer.
Need a hand selecting your style? Request a Virtual Appointment above so that you can see your favorite styles via Zoom and have an expert stylist guide you along the way to see what would look best on the big day!
Please Note: We are able to honor most designer promotions, and if the bride purchased her dress here you will receive 10% off your order in tax-free New Hampshire!
Step 2: Take Your Measurements
Bridesmaid measurements are simple, but important to get correct! To order you the right size dress, we need your bust, wast, and hip measurement. You can have them professionally taken at a formalwear retailer near you, or take them from the comfort of your home with the guidelines below:
First, make sure you are wearing a form-fitting tank top, or just a bra and undergarments.
Bust: Measure this straight across the fullest part of your bust, and make sure the tape is laying flat across your back (not above or below where it lays in the front). Make sure your arms are relaxed, exhale, and then record that number

Waist: This is the most narrow part of your torso, commonly referred to your natural waist. If you were to bend directly to the left or right, your body will naturally crease here. Similar to your bust, make sure your measuring tape is straight across your backside, exhale, and record that number for your waist measurement.

Hip: This measurement is taken around the fullest part of your body, which varies on each body type. Make sure you measure around your curves, not underneath them, and record that number as your waist.
Want a stylist to be there to virtually give you a hand? Not a problem!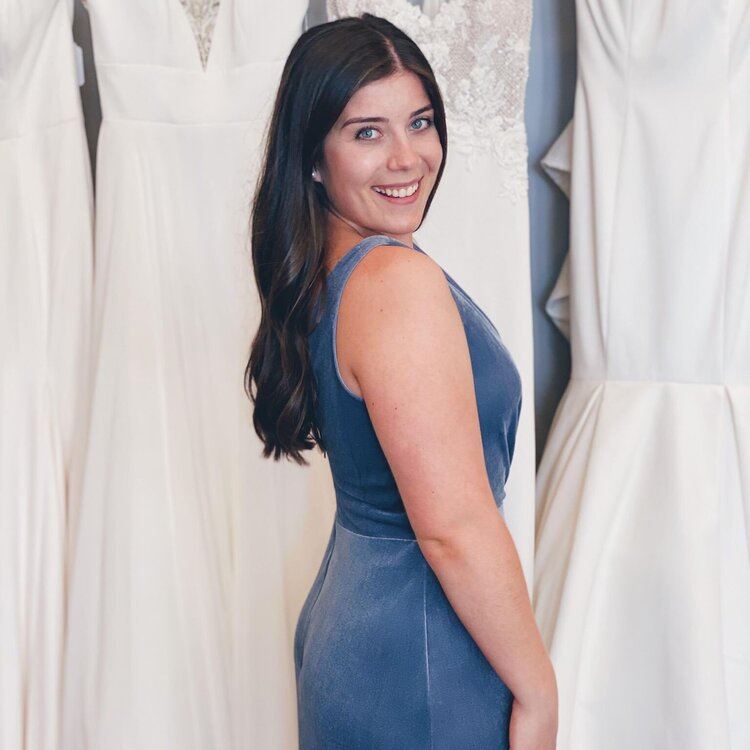 Step 3:
Now that you have your measurements, it's time to select your base size! Yes, base size. Alterations are almost always necessary to make the dress fit properly and truly mold it to your body.
If your measurements place you between multiple sizes, consider the size that will fit your curviest measurement and have the dress taken in on your smaller areas. You can always take dresses in (up to 3 sizes! So even if you're committing to a fitness program, you can safely select where you measure now and know it will be able to be adjusted for you), but these dresses don't have much seam allowance to be let out. Also, consider the dress style! If it's fitted at the hip, you'll want to make sure you select a size that fits that measurement, but if it's flowy at the hip you can focus on fitting your bust and waist.
If you're pregnant or expecting to be, give us a call so that we can guide you in the right direction!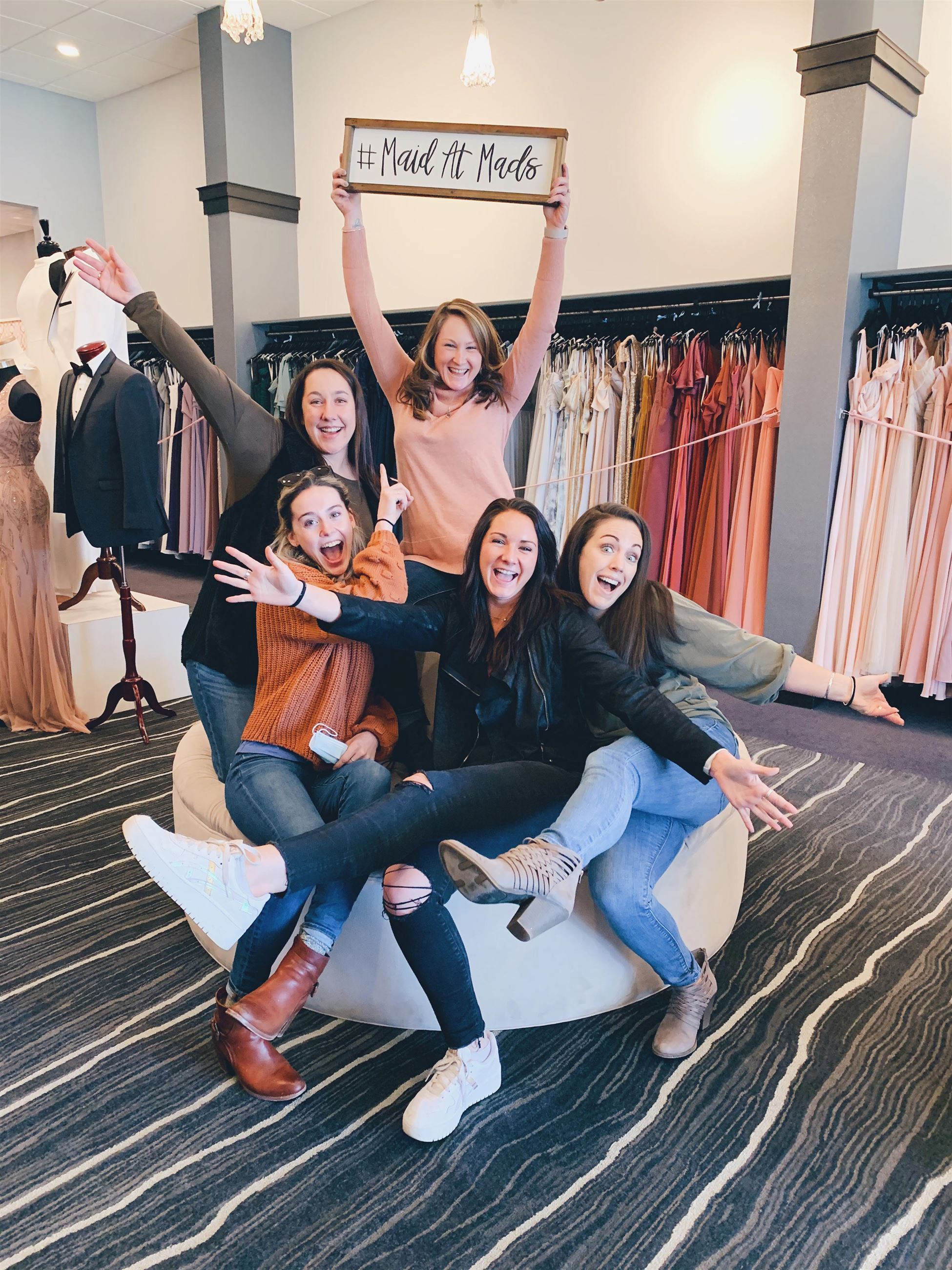 Submit Your Order
Seamlessly submit your order to us by phone during our business hours! When you call, an expert stylist can guide you through the size chart and complete your order's payment in one conversation. If you're ordering as a member of a larger party, we will wait until each bridesmaid has ordered before the full order is submitted to the designer. Once the order has been placed, we will contact the bride with an ETA.
When the dresses arrive, we contact the bride to cascade the notification of arrival to the rest of the party. If you would like us to ship your dress to your home address, just give us a call and we can arrange that. Or, a friend or family member can schedule a time to pick it up on your behalf, just send us an email and let us know their name!
Ordering solo? We'll contact you directly for all of the above.